dielle
Videos
8 videos
On Youtube:
5 Sylar/Elle
- Bonnie& Clyde Trailer
- The world is not enough
- L.O.V.E.
- Mr & Mrs Gray Trailer
- You'll follow me down
1 Angela & Arthur Petrelli - Divorce Italian Style
YT deleted the audio for the Linkin Park one, so...
On Megavideo:
What I've done (Gabriel Gray - Elle Bishop - Angela Petrelli)
My short movie
: HRG, Sylar & Elle: a love triangle
Thanks for voting me at the

syellevidaward
!!!
--->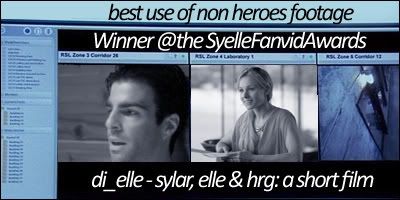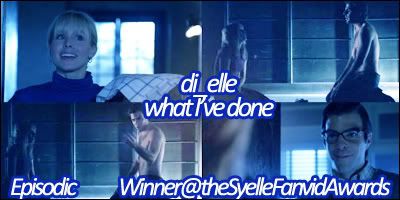 <---
Fanfictions
~late comments are love~
2008 fic...
One Last Wish
Peter, Sylar, hint at Sylar/Elle
Summary:
Several years had passed, perhaps more then a decade since their last confrontation, but it looks like it wasn't a fight what his old enemy wanted this time.
Four Times Gabriel was Jealous and Once He Wasn't
Gabriel [Elle, Trevor, The Haitian, Peter, HRG, Little Noah]
Christmas Eve
Little Noah, Gabriel & Elle [Peter]
Summary
:
"Can I wait for Santa Claus, daddy? Please!"
That's what it means to be human.
Sylar, Hrg[Little Noah]
Summary:
Wasn't it ironic that, after having snatched his dream of normality (a house, a family, doing the job), now he is returning it almost intact?
Home Deliveries
Gabriel, Elle
Summary
:
"A signature here" and the boy goes away, the door barely closed while Elle eagerly opens the package.
You got to be strong.
Gabriel, Angela [Elle]
Drabble for "explanation challenge" at sylarelle
You really got a hold on me
Elle/Sylar (Gabriel) and hint of little Noah
Summary
:
He loved to look into the eyes the flow of the different emotions, and the awareness of what would follow. Neither of them surprised by the intensity of his desire
.
Also, thanks for the nominee!
for the "Normalcy" drabble in
Four Times Gabriel was Jealous and Once He Wasn't
2009 fic...
Birthday Present
Sylar/Elle, Gabriel/Elle
Summary:
From Gabriel to Elle & From Elle to Sylar two special birthday presents
Killing time at work
(RFP)
Zachary Quinto,Hayden Panettiere [Kristen Bell, Adrian Pasdar] and Wendi Avignone (the Heroes makeup artist)
Prompt
#11. You need a haircut.
The description of a moment
(10 songs drabble)
Sylar, Elle [Peter, Little Noah]
Guess who's coming?
Gabriel, Elle [Luke, Lyle Bennet])
Summary
:
He was going to ask her something. She knew his tactics, by now.
The Goddess
Elle, Gabriel + more or less all Heroes cast as Greek Gods
Summary:
She was Electra, Zeus's daughter, and, just like her Daddy, threw arrows and lightning.
I'll do it for you
Elle [Sylar, Samson Gray]
Prompt
#14. I'll kill daddy for you
Summary
:
She was his personal ghost, except for the fact that nobody could hear her. Not funny.
Spoiled surprise
Elle, Gabriel, the Petrellis, the Bennets
Prompt
#24. Why name him Noah?
Summary
: Elle is in labor, Gabriel is in panic, and someone does a Big Confession. A normal Petrellis family dinner. Crackastic (sort of).
100 words drabble:
Life is a roller coaster
Gabriel, Elle
Challenge:
# 7 - Vacation/Holiday
Summary
: Elle has a wish list to fulfill before is too late