dielle
No pics, because I was at my grandpa home and phone battery died ah. but the results is pretty much like this... :)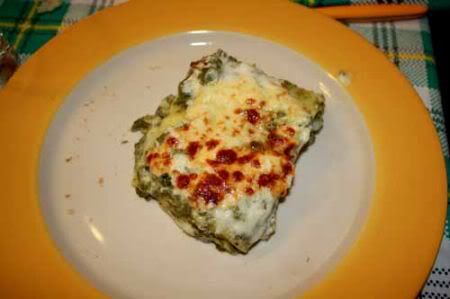 No bechamel for this, just
- spinach (1/2 kg for 5 person)
- grated parmesan
- grated 'Pecorino' cheese ( = ewe's milk cheese or some equivalent you like)
- some garlic (1 clove will do!)
- the usual cheese that melt well while backing (how was the feta?), as always I used some mozzarella).
Spinach Sauce
: Blanch the spinach, then pan-fry with some butter and the garlic. Add the grated ewe's milk cheese and put on the burner till the cheese is melt (very quickly)
Then put all in you mixer, add nutmeg (if you want/have), olive oil and the grated Parmesan, and mix until you got a homogeneous cream. That's your' sauce, so it must be creamy!
The
layering
process is always as in the
pumpkin lasagna
(and every lasagna ah ah!), so
Spinach Sauce on the bottom then
Lasagna -> Spinach Sauce -> cheese -> Parmesan.
At least 2 layers (or as many you want)
Final layer:
Lasagna -> Sauce (cover every bit of pasta with it, is important. If you haven't enough sauce at this point, add some milk. The important is to cover with some liquid all the pasta) and sprinkle abundant grated Parmesan on the top.
The cooking is the same as the other recipe (and use the tricks I told you!)
Hope you'll like it :D