Profile

Free Account
Created on 2009-05-22 15:24:36 (#380752), last updated 2010-01-27 (399 weeks ago)
2,645 comments received, 10 comments posted
363 Journal Entries, 101 Tags, 1 Memory, 15 Icons

About
| | |
| --- | --- |
| Name: | dielle |
| Birthdate: | Jan 5 |
| Location: | Italy |
| | |

Mini Bio
This is my lj, everyone is welcomed.
Basic things about me.
- I can't stand hypocrisy. If I don't like something you said, most likely I'll tell you, publicly or privately. I can be polite or very rude, in such case deal with it. And I would like the same from you. Feel free to tell me "you are wrong!" every time you feel it.
- I have no patient at all for lj/fandom related DRAMA and WANKS [Wank reporters? Just trolls. They existed since the Usenet has been invented...]
- I usually don't talk about religion or politics. But if I do, I'll probably rant about something. Consider yourself warned (and skip those post, it's better ;))
- I generally don't like slash. If that is you thing, I'll probably don't read your fics and skip your discussions about it, sorry.
- I don't like certain characters in some shows?, don't talk about him/her with me, or be prepared to some character bashing.
- lj-cuts and tags are love. Please use it.
- I'm Italian, so I'll occasionally kill English language. Be patient. (And feel free to correct me)
fic:
Four Times Gabriel was Jealous and Once He Wasn't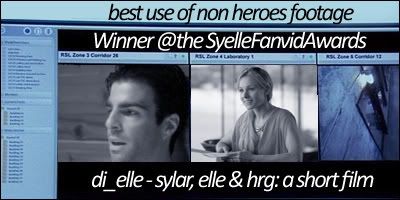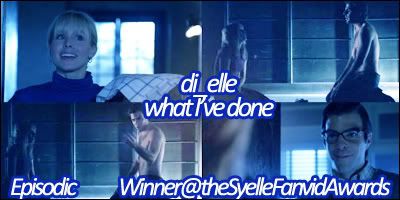 Sylar Elle Mood Theme made by
feelingalittle
Sasan Mood Theme made by
likefluffy
Zach/Kristen Mood Theme made by
faded_facade
/
quiet_ingenue
(
in use
)
Layout by Liz a.k.a. grrliz.livejournal.com

Connect
bob bishop
,
castle
,
chuck
, daphne/ando,
dollhouse
,
elle
,
elle bishop
,
elle/gabriel
,
elle/sylar
,
fanfiction
,
fic
,
firefly
,
friday night lights
,
gabriel gray
,
gabriel/elle
,
heroes
,
jane austen
,
kristen bell
, kristen/zach,
matt bomer
,
mohinder/elle
,
movies
,
noah gray
,
nyota uhura
,
peter petrelli
,
peter/claire
,
pride and prejudice
,
sasan
,
so notorious
,
spock
,
spock/uhura
,
star trek
,
star trek xi
,
sylar
,
sylar/elle
, sylar/heidi,
true blood
,
uhura
,
uhura/spock
,
virginia gray
,
white collar
,
zach quinto
,
zachary quinto
,
zachary/kristen
,
zoe saldana

People
[View Entries]
dela26

[livejournal.com]
acinogan
,
acoustics1220
,
aegoceros
,
alkja
,
amelietw
,
andreas-ri
,
anna-sg1
,
ateenwriter
,
babyara
,
bambiscott
,
bellonablack
,
calidreamin08
,
candlewaxdreams
,
catyuy
,
celeste1104
,
cruiscin-lan
,
dela26
,
di-elle
,
disalae
,
do-you-like-pie
,
dragynflies
,
ecfproduction
,
editednightmare
,
eternal-moonie
,
faded-facade
,
hetshepsit
,
idle-bubbles
,
ilikethequiet
,
inomuiro
,
jacquelin825
,
juliet42
,
kiandra-fire
,
kovaryo
,
lemomina
,
lynaem-88
,
milkandmolasses
,
mollivanders
,
mollykami
,
noria
,
oliviine
,
petitebelette
,
rebelle-elle
,
requiem-lament
,
sellthelie
,
shanynde
,
stainofmylove
,
stefichan
,
stromatowerry
,
superkappa
,
thebishopfiles
,
ulaylablue
,
wickee

Communities
[View entries]

Member Of (1):

Subscriptions (3):

Administrator Of (0)

Feeds
[View Entries]

Subscriptions (0)

Linking
To link to this user, copy this code:
On Dreamwidth:
Elsewhere: