- My graphic card died while I was re-watching some silly episode of volume 4 of Heroes.
( PC rant this way )
- Tomorrow I'll start the annual two weeks of LASER and TENS therapy for my neck. I really need it this year, I had fits of dizziness during the all summer. will be the occasion to read a book or two... *note to self, remember to take the book with you*
- Also, I've (or better my mother payed for it) bought the new furniture for my room. Now I've just have to paint the walls and pack everything for the half of October.
- I don't get why there are people upset by the
True Blood
finale. It was fun, ended all the stories with a satisfying ending (no fighting behind close doors... ) and set the new season with a *nice* cliffhanger. Maybe I watch it just for fun and I'm not so in the fandom, but I don't see anything to whine about it. Also, the last two episodes,

faded_facade
and

superkappa
and me had this twitter watching party... oh I wish I could do it with other shows!
- I've voted for Kyle Chandler (FNL's coach Taylor) instead of ZQ,
here
. What that say 'bout me? :P
- And now, silly poll time!
Inspired by the infamous paparazzi's pics of ZQ changing a flat tire, and the comment about being all manly he was in doing so. Because, girls, you must know how to change a flat tire, is not a manly thing! :P I can do it, Veronica Mars can do it, and you?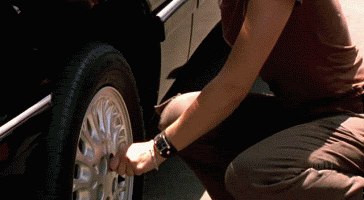 [
Poll #1458070
]